Visit us. Arrive early, stay late.

OPENING HOURS
Brisbane Powerhouse is open 9am til late, 7 days a week.
CASHLESS VENUE
Brisbane Powerhouse will be a cashless venue. Bar Alto and Mary Mae's will continue to accept cash.
P.S.
P.S. is short for Powerhouse Store, a postscript to your visit at Brisbane Powerhouse. Featuring handmade objects and utilitarian design pieces, P.S. showcases a selection of beautiful and functional items from considered brands around the world.

P.S. Every purchase plays a vital part in enabling Brisbane Powerhouse to become a leader in contemporary arts and culture.

MON – CLOSED
TUE, WED, SUN 10am – 4pm
THU , FRI, SAT 10am – 7.30pm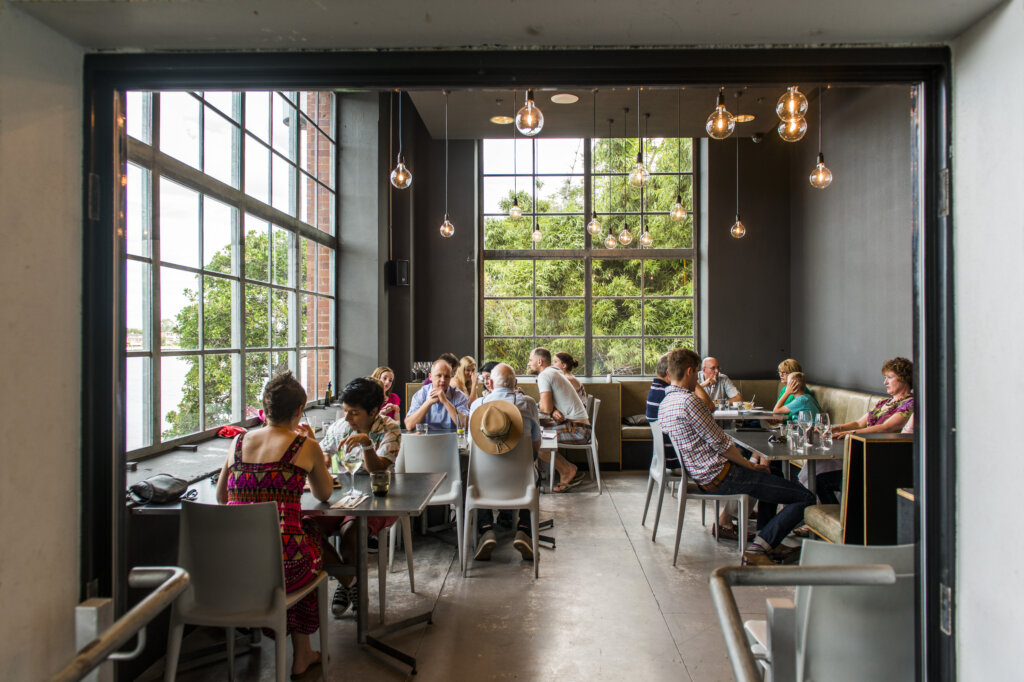 BAR ALTO
Few Italian meals of this calibre are eaten to such robust guitar riffs as might accompany you at Bar Alto. But, that's the incongruous appeal of dining in Brisbane Powerhouse. Add informed service and worthy wines and Bar Alto puts on quite a show. It's the must-eat restaurant in New Farm.

Tue 9.30am to 5pm
Wed – Sat 9.30am till late
Sun 9.30am to 5pm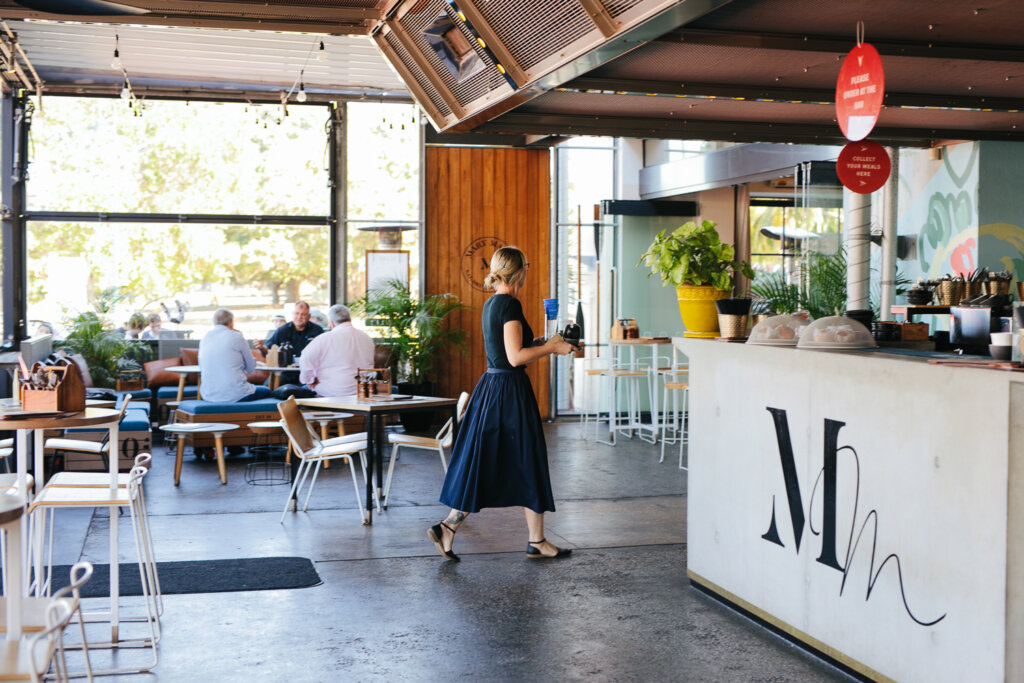 MARY MAE'S
With uninterrupted river views, sun-drenched terraces and an all-day dining menu, Mary Mae's encapsulates the relaxed Brisbane lifestyle. Offering re-imagined European classics using the best in local produce, the menu is designed for sharing over a long lazy breakfast right through to dinner.

Mon – Thu 8am – 3pm
Fri – Sun 8am – 10pm
GALLERY

FAIRFAX STUDIO
New to Brisbane Powerhouse, the Fairfax Studio is the first ever purpose-built, year-round exhibition space for the venue in our history. With the generous personal support of Tim and Gina Fairfax, the space has been constructed as a multi-use gallery to present a program of free contemporary art.

Creative works across installation, sound, video and visual art will be presented by local, national and international artists in response to our festival and ongoing programming.

The Fairfax Studio is located on the ground floor of Brisbane Powerhouse, across from the Underground Theatre and is accessible by stairs or lift.
PARKING
If you have a dinner reservation or are attending a performance, please arrive early.

Parking is limited at Brisbane Powerhouse. We encourage you to consider transport alternatives such as public transport, taxi, rideshare, shuttle bus, cycling, scooter, walking or river vessel.
New Farm Park Car Park (enter from Brunswick Street)
200 parking spaces (free)
New Farm Park gates open Mon–Fri 8.30am–11pm, Sat + Sun 6am–11pm
Exit gate open until 12.30am
Brisbane Powerhouse Car Park (enter from Lamington Street)
148 parking spaces (paid parking)
6 accessible parking spaces for permit holders
Operates 24/7
Parking is payable at the automatic pay station located adjacent to the car park, or on exit.
Wed-Sat from 5pm car park exits to both Brunswick St (via New Farm Park) and Lamington St
You can pre-pay for the $12 flat rate for parking after 5pm.
Less than 30 minutes parking is free at all times
Between 30 minutes and 3 hours, parking is $7 from 3am to 5pm daily
Between 3 hours and 12 hours, parking is $9 from 3am to 5pm daily
For parking from 5pm the flat night rate is $12
BUSES
196 – Merthyr, Valley, City, Sth Bris, Highgate Hill, Fairfield
Every 10-15 mins
Closest Stop – Brunswick St at Oxlade Dr
(480m walk to/from Brisbane Powerhouse, through New Farm Park)
199 – Teneriffe Ferry, New Farm, City, Cultural Centre, West End
Every 15 mins
Closest Stop – Merthyr Rd at Hawthorne St
(700m walk to/from Brisbane Powerhouse)
FERRIES
Towards University Qld (inbound) – City, South Bank, Milton, West End, St Lucia
Every 15-30 mins
Towards Northshore Hamilton (outbound) – Hawthorne, Bulimba, Teneriffe, Bretts Wharf
Every 15-30 mins
Closest Ferry Terminal – New Farm Park, end Brunswick St
(440m walk to/from Brisbane Powerhouse, through New Farm Park)
The New Farm Park River Hub is located on the river directly in front of Brisbane Powerhouse with easy vessel access for all things that float.
BIKES & SCOOTERS
Brisbane Powerhouse is located on the Newstead-New Farm Bikeway, which connects to the city centre via the New Farm Riverwalk. There are secure bike racks outside of Stores Building, near the Brisbane Powerhouse car park.

There are 2,800 e-bikes and e-scooters across Brisbane. Download the Neuron or Beam app on your smartphone to pick-up an e-bike or e-scooter.
There is a drop off area in the Brisbane Powerhouse car park with level access to the Stores Building and lift access to the main building. All levels of Brisbane Powerhouse are accessible by lift. The Turbine Platform can be accessed via ramp. On entry to the theatre, an usher will direct you to your seats.
If you need any assistance, please approach one of our friendly staff.

PARKING
We have five designated accessible parking spaces available for permit holders. A lift operates from the Stores Building (car park level) to the Powerhouse Plaza where the main entrance to the Brisbane Powerhouse is located. For patrons who require assistance travelling from our car park to our theatres, Brisbane Powerhouse can make arrangements to accommodate your needs with 24 hours advance notice. A wheelchair can also be made available on request whilst the patron is visiting Brisbane Powerhouse.
BOOKING TICKETS
Accessible seating options are available for wheelchair users and disabled patrons. Please notify Box Office of your requirements at the time of booking, a minimum of 24 hours in advance. Please note that balcony seating in the Powerhouse Theatre is not wheelchair accessible.
COMPANION CARD
Companion cards are accepted for events at Brisbane Powerhouse unless otherwise stated. Please advise that you will be using a companion card at the time of booking. Companion cards must be presented when collecting the tickets.
AUSLAN INTERPRETED PERFORMANCES
Brisbane Powerhouse has multiple Auslan performances throughout the year. In April 2022, we launched flex, a program committed to offering accessible year-round programing for arts lovers. Flex is primarily focused on engaging our Deaf community through Auslan interpreted performances with a vision to expand our accessibility offerings into the future.
Find out more about flex here.
ASSISTED LISTENING DEVICES (HEARING LOOP)
Please notify Box Office at the time of booking should you require a Hearing Loop. Our hearing loop has an earpiece that sits over your ear and may be used without a hearing aid.
RELAXED PERFORMANCE
Relaxed Performances are specially adapted to be accessible to a wide range of audiences who would benefit form a more relaxed environment. This can include but is not limited to people with autism, those with a learning disability or anyone with a sensory predisposition. All patrons who feel this performance might suit their specific needs are warmly encouraged to attend.
During the performance, house lights will remain on, but dimmed to ensure a comfortable environment. Patrons are welcome to exit and re-enter the theatre at any time as required and ushers will be available to assist. Audience members are also welcome to bring items such as earphones, ear plugs, fidget toys, appropriate muted electronic devices into the theatre to enjoy the performance.
For further information please contact Brisbane Powerhouse box office on 07 3358 8600
TOILETS
Wheelchair accessible toilets are located on all levels.
NEIGHBOURHOOD
Brisbane Powerhouse is located in the suburb of New Farm.
Due to the nature of our venue sometime our events will slightly impact our neighbourhood with increased traffic or sound levels.
Our neighbours can stay up to date here.
TOURS
Discover the history of our striking Modernist building, from the late 1920s when Brisbane Powerhouse supplied electricity for Brisbane's tramway system, to when underground artists, performers and the homeless inhabited the ruins from the 1970's to 2000, resulting in superb heritage-listed graffiti art.

For bookings contact (07) 3358 8600 or [email protected]
COST
Adults
$15
School groups up to Year 7
$9 per person (teachers free)
School groups Year 8 and over
$15 per person (teachers free)
stay
OVOLO THE VALLEY, FORTITUDE VALLEY
Experience a world full of wonder at Ovolo the Valley, part of the multi-award winning boutique hotel group in Australia.
Located in the heart of Fortitude Valley, this luxury hotel blends art, music and pop-culture to create a truly unique and personality filled aesthetic. A stones throw away from Brisbane Powerhouse, rooftop cocktail bars, relaxing cafes and Brisbane's best shops along with a fantastic restaurant and bar onsite with Za-Za-Ta.
Come for the experience, stay for the perks;
Savour sundowner drinks at social hour, complimentary midnight treats from the minibar, and complimentary breakfast to kickstart your day. Get superspeed wifi, 24-hour gym access and self-service laundry to keep you looking and feeling fresh.
Plus, as a Brisbane Powerhouse fan use the promocode "POWER' in the booking portal to claim 15% off!
THE INCHCOLM BY OVOLO, SPRING HILL
Classically boutique. Classically Ovolo. Perched above Brisbane's CBD, retreat, rendezvous, revel or all the above at The Inchcolm By Ovolo.
The neo-Georgian design with an edge pays homage to the building's time of prestige and resident physicians, with subtle hints of musical undertones and an air of rhapsody. Located on historic Wickham Terrace, the luxury accommodation at The Inchcolm By Ovolo will transport you to an era of sophistication and cool.
You are invited to explore a world full of tiny treasures, curiosities and eclectic art pieces all coming seamlessly together creating a space to choose the perfectly cosy spot and unwind, relax, or enjoy a tipple or two in solitude.
Think Gertrude Stein's Paris salon, where Hemingway, Fitzgerald, Picasso, Banksy, Lennon and Bowie would comfortably rub shoulders while sharing trailblazing ideas and indulging in bistro and bar classics.
Plus, as a Brisbane Powerhouse fan use the promocode "POWER' in the booking portal to claim 15% off!